Airline Representation Management
Assigned with the responsibility of looking after the entire airline division at  Caesars International Travel Co., Rajesh takes care of both off-line and on-line airline representations.
The economic situation is expected to improve following the global financial crisis and airline passenger numbers are likely to go up. We, at Caesars International Travel Co., are striving to symbolize this rapidly changing dynamics of the airline industry.
Our historic journey began when we became the first GSA for Air Philippines in 2007. We continued our upward journey gaining prominence in the aviation sector in Kuwait by partnering with many leading airlines of the world by representing them in Kuwait.  We have become the office of choice for passengers by continuing to expand our airline division. Our business strategy touches all facets of our operations – the number of airlines we serve, our broad spectrum of choices to our passengers and the airlines we represent.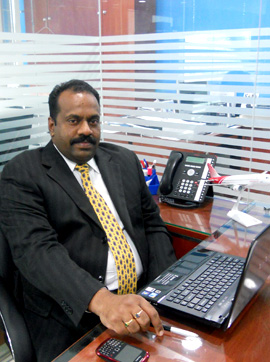 Rajesh Reghunathan
Director- Commercial & Marketing
At the same time, we intend to remain focused on maintaining the competitive cost structure of these airlines to pursue long-term stability as an airline consortium office. To compete effectively in the aviation industry of Kuwait and to provide world-class service to our customers, we hope to open and develop new markets by representing leading airlines of the world through strategic planning. In our constant endeavour to provide quality service to our customers, we are  in the pursuit of becoming a well known brand in the travel industry.