Caesars Holidays was established in 2002 in order to provide  premium quality holiday travel packages for increasing demand of regular ticketing customers of Caesars Travel. Caesars Holidays is a part of Caesars Travel Group. Whether you are searching for a Holiday get-away for the entire family or simply a hotel booking, Caesars Holidays is your ideal travel companion.
To provide quality service, we work with our preferred travel partners to make available hotels, tours and transport that caters to  every traveler's needs. We have personal and first-hand experience with our preferred partners and extend this knowledge to all of our our customers. We also endeavor to provide personalized attention to all our passengers. In a short time-span, our clients have developed a personal association with our friendly travel consultants. Our travel consultants are well-trained trained and highly experienced in their respective streams of specialization.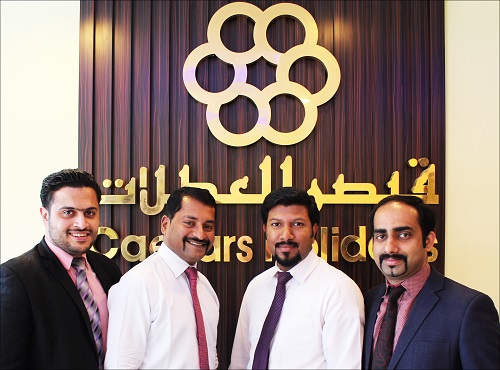 Caesars Holidays is also GSA for Cox & Kings, a 250 year-old travel company and one of the most reputed travel organisations in India. This venture to serve the Indian expatriate community in Kuwait has been highly successful, which also makes Caesars Holidays one of the top GSAs in Middle East. Caesars holidays is also a proud representative of major tour operators like TradeWinds, SIA holidays and world leading cruises like Star Cruises, Norwegian Cruises Line and MSC Cruises.
With a vision to grow since its establishment, Caesars Holidays has opened two more branches across the country for easy access to its customers.Since its inception, Caesars Holiday has carved a niche for itself in the travel trade.
| | |
| --- | --- |
|   | Cox & Kings – Cox & Kings is the longest established tours and travels company in the world. Established in 1758, they are headquartered in Mumbai with a presence in over 13 countries worldwide. Their services include destination management, domestic and international holiday packages, luxury travel, business and MICE, NRI and foreign exchange solutions, as well as insurance |
|   | Tradewinds – Tradewinds Tours & Travel is a global business based in Singapore that is focused on providing the highest level of customer service to meet the global traveller's needs for leisure or business. A member of the Singapore Airlines group, Tradewinds Tours & Travel searches for and features quality partners in all of its products. Apart from MICE services, Tradewinds Tours & Travel features the SIA Holidays and SilkAir Holidays programmes, SIA Stopover Holidays, and customized tours and programmes for both private and corporate customers. |
|   | Singapore Airlines Holidays is a fully licensed, national travel agency providing an extensive range of travel package holiday options to Singapore, Maldives, Sri Lanka, UK/Europe and Asia. Caesars Holidays as their General Sales Agent, help you to planning and providing information on holidays and unbeatable travel deals to Singapore, Maldives, Thailand, Malaysia, Hong Kong, China, Philippines, Vietnam, Cambodia, Indonesia, UK and Europe. |
|   | Star Cruises – Cruises are definitely a unique and interesting way of spending your holiday; either you have only a few days or enough time for a long holiday. Star Cruises is not just a cruise line, but it is actually the third largest cruise line in the world, after Carnival Corporation and Royal Caribbean Cruises (according to 2011 data). Star Cruises is listed on the Singapore Exchange, as well as on the Hong Kong Stock Exchange. |
|   | Norwegian Cruise Line (NCL)  – NCL is probably best known for the creation of the concept of Freestyle Cruising — an approach to the cruise business which focuses totally upon passenger preferences and ultimate guest comfort. NCL has launched 8 new ships specifically designed for Freestyle dining, activities, service, and accommodations. In July of 2010, NCL launched the Norwegian Epic, a ship which offers the first single occupancy staterooms in cruise history and Today, NCL is one of the premier cruise lines in the world |
|   | Following several years of unprecedented growth, MSC Cruises boasts the most modern cruise fleet in the world with 11 ships currently in operation. MSC Cruises is a leader in the Mediterranean cruise market, sailing in the region throughout the year, as well as offering a wide range of seasonal itineraries in Northern Europe, the Atlantic Ocean, the Caribbean, North America and Canada, South America, the Indian Ocean, South and West Africa. MSC Cruises is one of the fastest growing cruise lines in the world |